DET NORSKE VERITAS (DNV) MANAGEMENT SYSTEM CERTIFICATE
Certification Qualifications
Date Given
Recent Award Date
System Name
Dec.07,1993
Nov. 22, 2016

ISO 9001 Quality Management
System Year 2015 Version
March 10, 1999
Nov. 22, 2016
ISO 14001 Environmental Management System Year 2015 Version
Dec.12,2001
Dec. 20, 2019
ISO 45001 Occupational Health and Safety Management System Year 2018 Version
Timely provide products and service to customer satisfaction, and not allow customers to experience inconvenience.
Through modern operations provide constantly improving quality, and promote TQM (Total Quality Management) and NPS (New Product System).
Through helping train employees, constantly updating equipment, and introducing new technologies, upgrade our quality. 
Our employees meet three requirements:
1.Conducting research to improve, for the best quality.
2.Providing on-call service, for the best service.
3.Keeping innovating, for the best technology.
The goal is to perfect our products and services.
Our Environmental Safety and Health Policies:
This company is a professional elevator and parking equipment manufacturer, seller, installer, and service company. Self-established more than 40 years ago, we maintain "Skills First, Quality First, and Service First" as our business philosophy. We create products to enhance convenience of life for individuals and society, and actively engage in giving back to society.
During the manufacturing process we utilize metals, gas, water and electrical resources. Water left over from the manufacturing process is properly processed at our refuse water facility in accordance with legal standards. Excess gas is consumed through a furnace and carbon absorption, then released. Excess materials are removed by qualified firms. We are striding towards becoming a "green business," doing our best to eliminate pollution, industrial waste, and achieve green plans. We hope to eliminate future problems, and through planning work towards clean manufacturing advances, reducing waste products, pollution, and excess resource usage.
For our company to operate and develop sustainably and to take social responsibilities, we are committed to:
1.  Complying with national environmental protection law and safety and health regulations, meeting other relevant requirements signed and undertaken by our company, and providing safe and healthy working conditions. The goals include preventing injuries and health hazards caused by work, eradicating dangers and threats, as well as reducing occupational safety and health risks.
2. Pollution prevention and continuous improvement. We strive to cut waste during the production, and even consider the use of raw material as early as the R&D stage and the design stage. Furthermore, we work hard to eliminate pin-point injuries and fall hazards as well as reduce occupational safety and health risks. In the meantime, we keep improving our safety and health management system.
3. Ensuring safe and healthy manufacturing facilities and establishing an effective emergency response system to curb accidents and disasters.
4. Continuing to promote the concepts of risk prevention and environmental protection to our employees, suppliers and contractors.
5.Encouraging workers and worker representatives to counsel and participate in our occupational safety and health policies.
This company promises goal completion and maintenance of societal responsibilities. This policy shall be published and publicly available.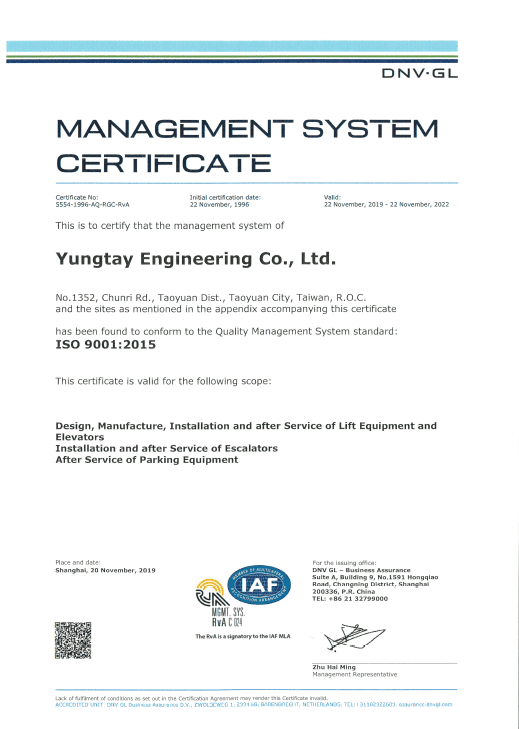 ISO 9001 Quality Management
System Year 2015 Version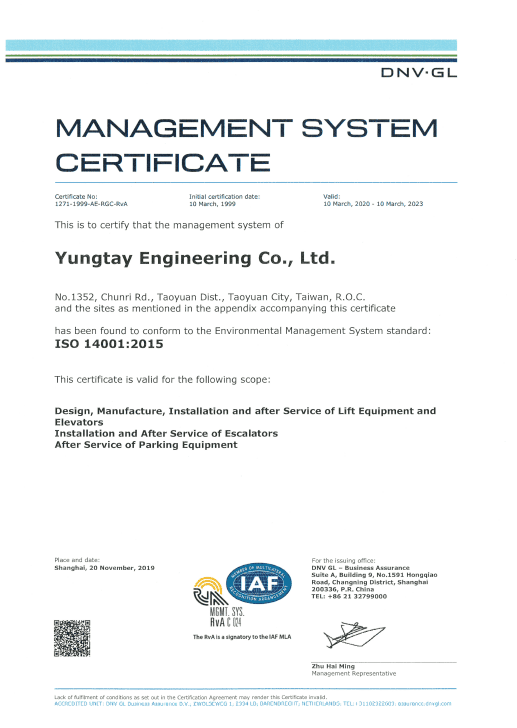 ISO 14001 Environmental Management System
Year 2015 Version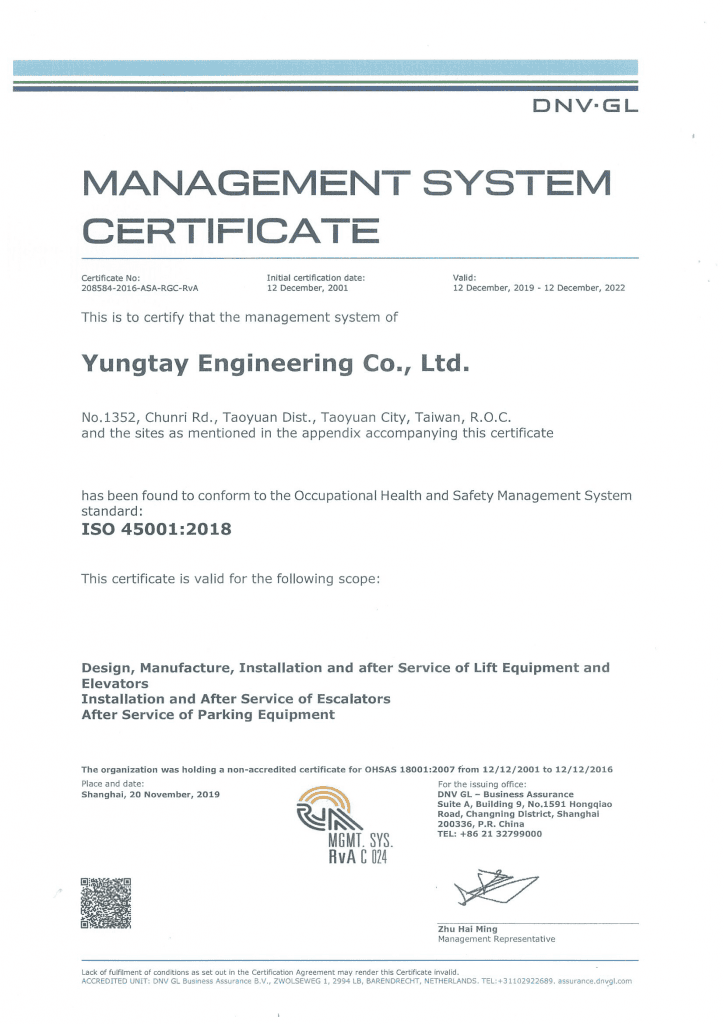 ISO 45001 Management System Year 2018 Version